Here are three of the hottest trends for a stylish summer that promises to live up to all of your expectations. We'll help you work the trends and find the perfect elevator shoes to match, so you can always be on top…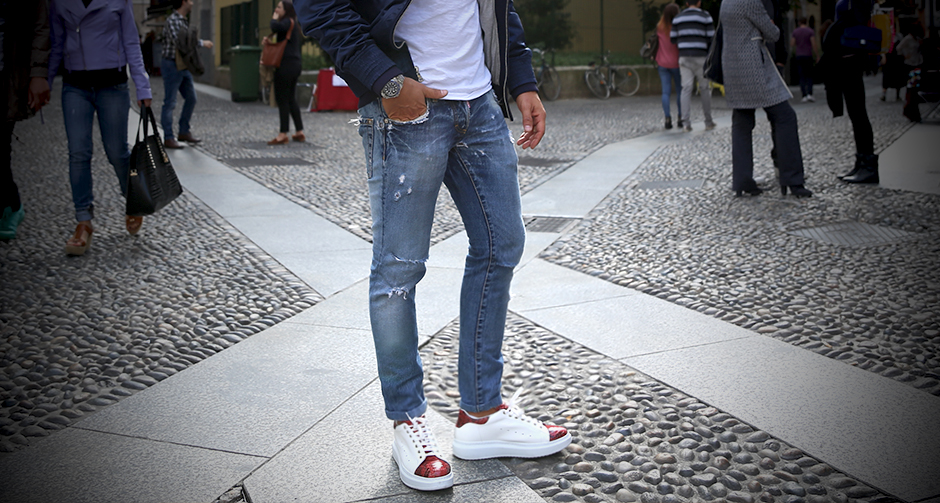 The summer weather is finally on its way and that means endless sunny days and warm evenings. So it's time to put away those cold weather accessories and start shedding the extra layers of clothing. But what if, like many men, you're not a fully fledged fashionista? It can be difficult to know what to wear, especially when the temperatures rise. But luckily we have the most glamorous European fashion shows to turn to for inspiration. And we'll look at the coolest trends and the hottest elevator shoes to go with them.
Colors
This summer, bright colors are everywhere. And with this trend it doesn't matter how you wear it. The brighter and bolder the better, as it's all about fun primary colors. Highlight your tomato red shorts or shirt with the Pamplona elevator shoes from GuidoMaggi's summer collection. The python skin leather in vibrant red makes these elevator sneakers an ideal choice for this color trend, and the patent white leather upper will add a fresh summer feel to your outfit, keeping you cool and slick. Not only that, the built-in elevator system will discreetly boost your height by an extra 2.6 inches.
Englishman in New York
Think dapper styles with added elegance for summer 2018. Classic glamour is always on trend and this year is no different. Pinstripe pants and linen shirts or jackets go splendidly with the Cremona shoe, giving a sleek look that will stand the test of time and make you rise right to the top of the style charts. This slick handcrafted brogue features two tone detailing for an elegant, dandy look, and combines dark gray leather with light gray fabric, as well as invisibly increasing your height up to 3.1 inches.
The 90s
The 90s have been making a comeback for what seems like a while and this summer the 90s trends are here to stay. There are so many trends of the 90s, but one thing you can guarantee is your comfortable footwear. Sneakers are the go-to shoes for this trend. Pair them with your oversized shirts, cut-off jeans or even your Hawaiian shirts. The Lisbon elevator sneakers are the ideal way to accessorize this hot trend. They will increase your height by 2.6 inches, boosting confidence, and will keep you looking cool and stylish all summer long.
So whatever trend you choose for summer 2018, you know you can elevate any look with the hottest styles from GuidoMaggi.